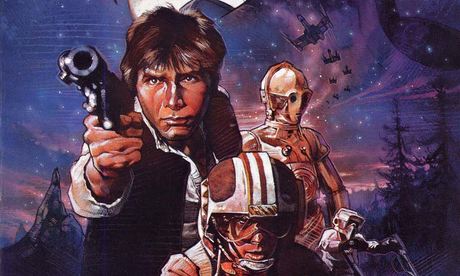 The Guardian has published an interesting short article about media tie-in novels, albeit one a bit narrow in its examination of the field. (It spends most of its ink on Star Wars, and the closest it gets to the Star Trek books is a hat-tip to John Scalzi's award-winning novel Redshirts, which is more a parody of Star Trek than a franchise novel. And while John offers some flattering remarks about the craft of tie-in writing, I wish article writer Damien Walter had actually interviewed some real, working media tie-in writers.
Sadly, the article's reader comments comprise the usual disappointing melange — complaints that "franchise novels" are just "printed television," or repetitions of the ignorant belief that one must have seen every episode and have read every previous novel in order to enjoy the newest books, or that franchise novels "bring nothing new or original" to the page.
I give the article's author a polite hat-tip for trying to give media tie-in novels a fair shake, but I want to throttle some of his readers.
ETA: I received a tweet from the article's author, Damien Walter, who explained that he normally does not interview people for "opinion" pieces, and that the only reason Mr. Scalzi is quoted is that Walter happened to discuss it with him while he was preparing the article.
#SFWApro